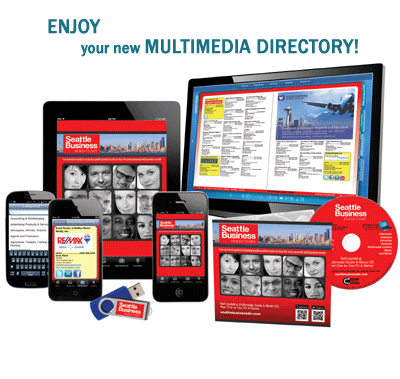 Advertise in the New
Seattle Business Directory
Would you like to reach business audiences across the Pacific Northwest?
Increase your visibility, target new customers and drive traffic to your website - these are just a few of the reasons to advertise in the Seattle Business Directory.
The Seattle Business Directory is the official business resource and guide used by consumers, business owners and their audiences at large across the Puget Sound region. Advertising benefits include:
Drive traffic to your site. Fueled by social media traffic, advertising in the Seattle Business Directory drives traffic to your site from the people who matter. Sponsorships and thought-leader contributions are also available

Build credibility for your brand. Each month, more than 60,000 of the state's influential business leaders spend time with our publications

Maximize the value of your ad budget. Advertising in the Seattle Business Directory is the most cost-effective way of achieving the greatest reach for your advertisement budget, showcasing your company and your message across the Pacific Northwest and beyond - with no membership dues or initiation fees.
Power in Numbers: Demographics
1

05,000 business readers each month

$216,844 average annual pre-tax income

68% CEO/President/Senior Management/Business Owner/Proprietor

70% Approve Purchases

48% of readers "frequently purchase products or services from ads" seen in our publications

59% of readers are between 35 and 54 years of age

46% of readers are senior management for midsize companies (100 to 600 people)

71% of readers are male; 29% of readers are female
Available online, on mobile apps and on self-updating CDs & USBs, the Seattle Business Directory is a dynamic, social-media enabled and searchable directory, designed to provide maximum visibility. We encourage you to use it as a connection to your next customer — and we encourage you to reciprocate by driving business with fellow Washington companies.
The directory is distributed via our extensive network, reaching the Washington state business community for more than 105,000 executives, with both local and non-local business people who turn to the Seattle Business Directory for information about doing business in the region and use it to reach the Pacific Northwest's vibrant business community. The directory is open and freely accessible to the general public, including the 7+ million residents of Washington state.
Do you think this might be useful for your business?
Please contact us today to request our latest ad specials and guidelines and we will be happy to assist. Don't miss this opportunity for increased exposure, reach and retention of your marketing!