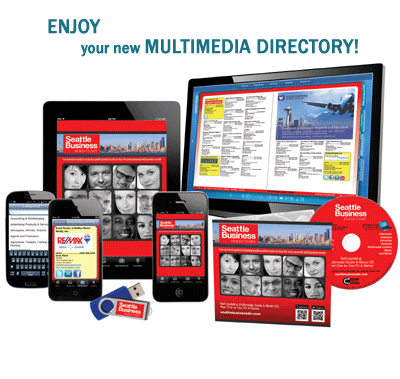 Increase your business connections with the New Seattle Business Directory
Welcome to the Seattle Business Directory (click to see)! Originally commissioned by award-winning Seattle Business magazine in 2016, the Seattle Business Directory covers the entire Washington state business community for more than 105,00 executives.
Promote your business across the Pacific Northwest: As part of our efforts to help you attract and retain more business, this multimedia business directory is designed to provide local companies a sensible, cost-effective way to maximize their visibility, drive website traffic and build brand credibility.
Available online, on mobile apps, in print and on self-updating CDs & USBs, the Seattle Business Directory is a dynamic, social media-enabled and searchable resource, designed to provide enhanced exposure, reach and retention. We encourage you to use it as a connection to your next customer — and we encourage you to reciprocate by doing business with fellow Washington companies.
The directory is distributed via our extensive network, reaching the Washington state business community (see demographics), with both local and non-local business people who turn to the Seattle Business Directory for information about doing business in the region and use it to reach the Pacific Northwest's vibrant business community. The directory is open and freely accessible to the general public, including the 7+ million residents of Washington state.
Thanks for being a part of the Seattle Business community!